What you get out of your personal training session
The YMCA can provide you with one on one personal training sessions designed to meet your personal fitness needs. Each session is a duration of one hour and appointments must be scheduled prior to the training session. Our certified personal training staff members can assist you to:
Provide a personal exercise program that is specifically designed to help you attain your goals
Instruct you on the importance of your individualized program and how it works with your body.
Provide safe exercise settings, encouragement and support
Help motivate you in staying with your program.
Construct revolutionary and innovative new teaching methods to meet your needs.
Assessing your fitness level
The YMCA Personal Training Staff is capable of assessing your current fitness level through a series of tests. An appointment must be made by calling the YMCA at 815-538-2900. During your first appointment you must fill out a Personal Training Form with health, medical history, activity, interests, etc, giving our training staff the information needed to create an effective exercise prescription, custom designed for you. You are able to choose from the test options listed below that you would like to have administered by your trainer. Get your
Personal Training Form
.
Body Analysis – refers to the absolute amounts and distribution of the structural components of the body – fat, fluid, muscle/tissue and bone. A complete body composition analysis is a great way to check your fitness progression and success by comparing your test results before, during, and after your program. Stop at the Front Desk to use the Biomeasure machine for just $1
Cardio Respiratory Fitness – refers to the ability of the body to take in, transport and utilize oxygen. It includes the capacity of the heart and lungs to exchange and deliver oxygen to working muscles during sustained motion. We offer various testing options to be decided the day of your fitness test
Muscular Strength – refers to the amount of weight (maximal force) that can be lifted in a single attempt by a particular muscle group. This is a great way to learn how strong you currently are, with relation to how strong you hope to become through your future program.
Muscular Endurance – refers to the ability of a single muscle group to lift a sub maximal weight numerous times. It also is the ability of a muscle group to stabilize a fixed contraction for an extended period of time. A testing procedure that is able to predict how long you can continue a single exercise, great for endurance athletes such as marathon runners, triathlon competitors, etc.
Flexibility – also defined as mobility, refers to muscle suppleness as well as the range of motion for the major joints that make-up the human body. Adequate range of motion can imply that the muscles are able to elongate to accommodate the full mobility required by the joint, as well as to maintain functional muscular balance. The testing procedure for flexibility is very simple and easy to learn.
Current & Past Cancer Patients
Current and past cancer patients can receive 5 personal training sessions by clicking the
Get your Rear in Gear Application
.
| | | | |
| --- | --- | --- | --- |
| Session | Single | 2 People | 3 People |
| 30 Minutes | $15 | | |
| 1 Hour | $25 | $40 | $55 |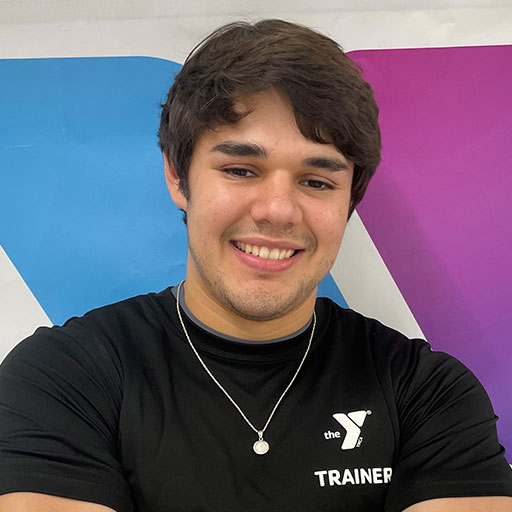 ISSA Certified Personal Trainer
Education:
Graduate of Mendota Township High School
Illinois Valley Community College Student, graduating with an Associates of Science with a focus of Kinesiology, pursuing a degree in Physical Therapy Assistance
International Sport Science Academy Certificate of Personal Training
Experience:
3-sport athlete in all 4 years of high school
United States Powerlifting Association Powerlifting Competitor
Red Cross Certified Lifeguard
Mendota YMCA Strength and Conditioning Coach